Receivables & Deposits
Streamline your financial management process and stay on top of your funds. These cost-effective options speed up access to available cash and reduce fraud risk.
ACH Services
Streamline payments and reduce transaction costs with electronic credits and debits. Services including direct deposit, direct debit, business-to-business transactions, and cash concentration and disbursement allow you to pay vendors, distribute payroll and collect dues and payments with the click of your mouse.
Credit Card Processing
First American Bank presents credit card processing to our bank customers through Professional Solutions Financial Services. Click below to learn more about our lowest price guarantee.
Learn More
Electronic Check Deposit
Save time and money when you scan and send checks to your First American Bank account using Electronic Check Deposit. No waiting. No courier fees. No leaving your store or office. Setting up and using the compact scanning device is fast and simple.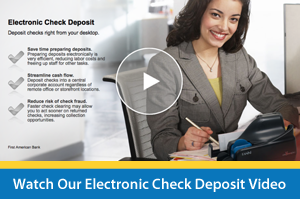 Lockbox
Process payments more cost effectively by outsourcing your accounts receivable to First American Bank. Streamline the receivables process and gain access to your funds more quickly, whether you have a high volume of small credit card payments or just a few large checks.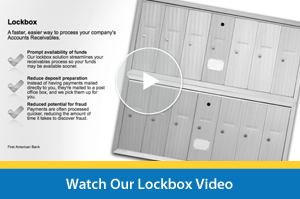 Notice
You are leaving First American Bank's website
By accessing this link, you will be leaving the First American Bank website and entering in a website hosted by another party. First American Bank has approved this as a reliable third party site, but please be advised that you will no longer be under the protection of, or subject to, the privacy and security policies of First American Bank. First American Bank is not responsible for the third party site's information.
Please review the site's privacy policy, as well as their terms of use.