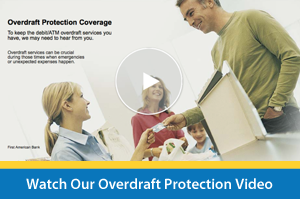 Overdraft Protection
What is an Overdraft?
An overdraft occurs when you do not have enough money in your account to cover a transaction. Transactions may include checks, ACH, ATM*, or debit card* transactions. At our discretion, we may decide to pay an item or process a transaction even though you do not have sufficient funds available. In some cases your transaction will be returned or denied. You will be charged a fee for each item paid or returned.
*Opt-In service required, please contact your banker for details
Overdraft Protection Options
Overdraft Line of Credit
An overdraft line of credit allows you to overdraw your checking account up to the amount of your pre-established credit line. Interest is charged on the amount borrowed against the line of credit. Contact your local branch for more information or to apply for an overdraft line of credit.
Opt-In Service for ATM and Debit Card Transactions
Upon your consent we will process ATM and one-time debit card transactions when there are insufficient funds in your account. If you do not "opt-in," then those transactions will be declined at the point of sale.
You can request to Opt In or Opt Out of Overdraft Protection for your account by contacting your local branch for more information.